WM. T. Burnett Careers
We believe in
personal and professional growth

by investing in the development of our employees.

Wm. T. Burnett & Co. offers a diverse and unique range of technical foam and fiber products for the automotive, bedding, filtration, furniture, and industrial markets. Formed in 1898, first as a mattress manufacturer, later as a producer of cotton batting, Wm. T. Burnett then expanded its capabilities to produce specialty fiber products as they do today. In 1954, Burnett was the first American company to produce open-celled flexible polyurethane foams, and later invented the industry standard for pouring wide-width continuous foams.
Today, Wm. T. Burnett is comprised of two distinct divisions
Specialty polyester and ether foams
High loft, calendared, and needled non wovens
Why Choose Wm. T. Burnett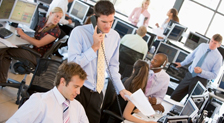 With over 100 years in business, Wm. T. Burnett is a stable employer in communities we operate. We believe in personal and professional growth by investing in the development of our employees through training and on the job experiences.
As a family-owned business, we treat employees like family and offer a respectful work environment. We value a strong work ethic and strive always to be fair and consistent. We demonstrate our commitment to our employees through our robust benefit offerings and career development opportunities.
Job Opportunities
Search/View all of our available job opportunities.
Search Jobs